WELCOME TO
AMERISCHOOLS ACADEMY
AmeriSchools Academy™ strives to create and maintain a safe and inviting learning community to support both students and families. Our goal is to develop lifelong learners who are compassionate, culturally sensitive, effective and responsible citizens.

THE AMERISCHOOLS
DIFFERENCE
AmeriSchools is an unsurpassed tuition-free, exceptional learning community of professionals dedicated to providing a clear choice in education for children in grades K-8, with highly- experienced/qualified teachers and administrators as part of our program.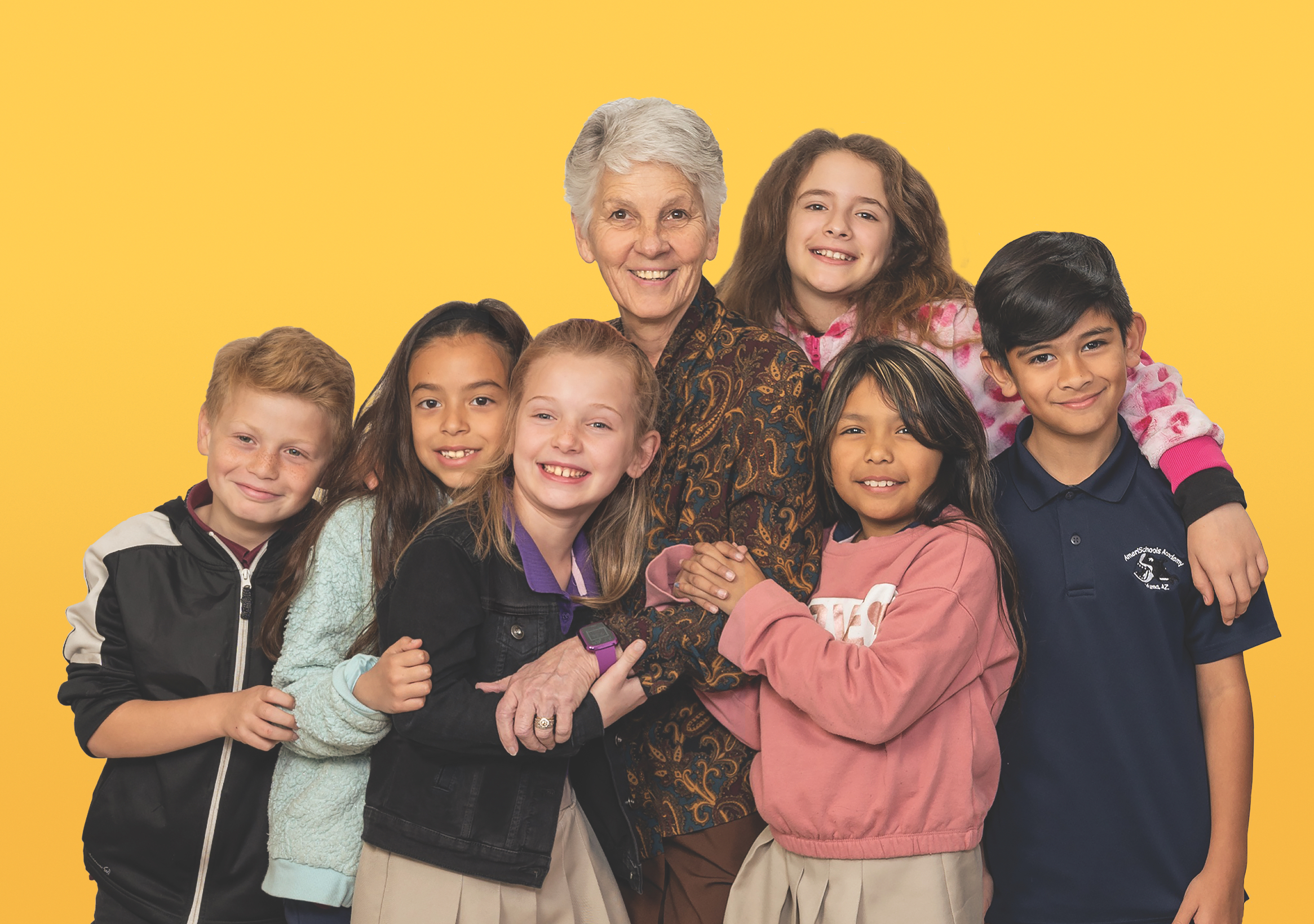 FIND AN AMERISCHOOLS CAMPUS FOR

YOUR CHILD
Being able to choose from the best learning environment your child should not be taken lightly and so we invite you to learn more about our campuses and education opportunities.
Learn More

AmeriSchools Academy™


Core Values
Non-Graded
Community as Laboratory
Personalized Instruction
Skill Based Instruction
Choice
High Academic Standards
Integrated Curriculum
Enrichment
High Quality Staff
AMERISCHOOLS

TESTIMONIALS
"Our youngest is in the 3rd grade and has really blossomed. We want to acknowledge his efforts and praise his EXCELLENT communication and feedback – it has been thorough and invaluable."
Phoenix Camelback
Camelback Parent
"AmeriSchools Academy administration, teachers, and staff believe every child has value, they nurture the talents and dreams of their student's, make them feel successful, and help advocate for their needs. It's a place where the staff is dedicated, caring, and supportive and where teachers make learning fun which sets the pace for student's love of learning."
Phoenix Camelback
Yuma North Parent
"What an extraordinary opportunity Coach D has provided these young folks – our experience as parents and our child's growth and joy at being a part of the team was very special."
Phoenix Camelback
Camelback Parent
"My daughter attended the 1st grade here and it was absolutely the best school! We also have children from the ages of 4-18 years old so we've had the experience of going thru many school systems with being Military."
Phoenix Camelback
Yuma North Parent
"Our two kids have been at AmeriSchools Camelback for 3 years. Each year we have seen them grow in so many positive ways; character, academics, and many other important areas."
Phoenix Camelback
Camelback Parent
"The teachers care about your child and their education needs. They are 100% hands-on and there is always an open line of communication!! They have really great after-school programs for being such a small school. Both of my children have thrived here. It's so amazing how they have just flourished. We will be moving this summer and the kids and I are both so sad to leave!! Great teachers best staff and one awesome Principal. They truly care. "
Phoenix Camelback
Yuma North Parent
"I have 2 children here at AmeriSchools. We have been to 1 private school prior to coming over to Amerischools. I have to say hands down the best school my kids have ever attended!"
Phoenix Camelback
Yuma North Parent
"If a student is having a problem with a certain subject they (the K-1 teachers) will not stop until the child understands or they will find another way to teach the child."
Phoenix Camelback
Tucson Parent
"Amerischools has been an answer to prayer for our family. We love everything about this school from the small and intimate enrollment to the diversity and respect for our individual needs as families and students."
Phoenix Camelback
Tucson Parent
"If you're looking for a school that you can truly partner with to grow your child look no further. I have found the leadership and staff to be highly motivated and knowledgeable, the atmosphere to be positive and encouraging, and most importantly my children love their school. They deserve their A rating!"
Phoenix Camelback
Tucson Parent
"Learning remains the top priority, as my children come home excited about doing their homework. With GREAT teachers, GREAT front desk administration, the Principal can keep the school united on the same academic page… ABOVE PERFORMING!"
Phoenix Camelback
Yuma South Parent
"My children have attended AmeriSchools Academy for five years and I have seen this school get better each year. The environment is safe and the academics are at a good level. My children and I like the activities for families like movie night and the talent show. AmeriSchools has truly been a great school for my family!"
Phoenix Camelback
Tucson Parent
"Our family loves Amerischools Academy! The principal and teachers provide a warm loving atmosphere where the children can feel safe yet are still held accountable for their actions teaching them to be responsible young members of the community. The academics are outstanding as proven by their "above performing" status. We have experienced the public school system and feel so lucky to be a part of the Amerischools family!"
Phoenix Camelback
Yuma South Parent
"My grandson is in small classes that allow for individual teacher attention and instruction that is matched to his skills and abilities. He is excelling in math!"
Phoenix Camelback
Tucson Family Member
"I really like that AmeriSchools now has structured PE, music and art classes."
Phoenix Camelback
Yuma South Parent
"As a student of Amerischools for 8 years (1st-8th grade), I've learned much from not only the curriculum but what is expected out of myself as a person who is active in the community."
Phoenix Camelback
Camelback Student
"After being displeased with a local public school and not finding a middle ground for two years, we tried AmeriSchools. My daughter's grades have improved immensely."
Phoenix Camelback
Yuma North Parent
"Our youngest is in the 3rd grade and has really blossomed. We want to acknowledge his efforts and praise his EXCELLENT communication and feedback – it has been thorough and invaluable."
Phoenix Camelback
Camelback Parent
"If you're looking for a school that you can truly partner with to grow your child look no further. I have found the leadership and staff to be highly motivated and knowledgeable, the atmosphere to be positive and encouraging, and most importantly my children love their school. They deserve their A rating!"
Phoenix Camelback
Tucson Parent
"AmeriSchools Academy administration, teachers, and staff believe every child has value, they nurture the talents and dreams of their student's, make them feel successful, and help advocate for their needs. It's a place where the staff is dedicated, caring, and supportive and where teachers make learning fun which sets the pace for student's love of learning."
Phoenix Camelback
Yuma North Parent
"Learning remains the top priority, as my children come home excited about doing their homework. With GREAT teachers, GREAT front desk administration, the Principal can keep the school united on the same academic page… ABOVE PERFORMING!"
Phoenix Camelback
Yuma South Parent
"What an extraordinary opportunity Coach D has provided these young folks – our experience as parents and our child's growth and joy at being a part of the team was very special."
Phoenix Camelback
Camelback Parent
"My children have attended AmeriSchools Academy for five years and I have seen this school get better each year. The environment is safe and the academics are at a good level. My children and I like the activities for families like movie night and the talent show. AmeriSchools has truly been a great school for my family!"
Phoenix Camelback
Tucson Parent
"My daughter attended the 1st grade here and it was absolutely the best school! We also have children from the ages of 4-18 years old so we've had the experience of going thru many school systems with being Military."
Phoenix Camelback
Yuma North Parent
"Our family loves Amerischools Academy! The principal and teachers provide a warm loving atmosphere where the children can feel safe yet are still held accountable for their actions teaching them to be responsible young members of the community. The academics are outstanding as proven by their "above performing" status. We have experienced the public school system and feel so lucky to be a part of the Amerischools family!"
Phoenix Camelback
Yuma South Parent
"Our two kids have been at AmeriSchools Camelback for 3 years. Each year we have seen them grow in so many positive ways; character, academics, and many other important areas."
Phoenix Camelback
Camelback Parent
"My grandson is in small classes that allow for individual teacher attention and instruction that is matched to his skills and abilities. He is excelling in math!"
Phoenix Camelback
Tucson Family Member
"The teachers care about your child and their education needs. They are 100% hands-on and there is always an open line of communication!! They have really great after-school programs for being such a small school. Both of my children have thrived here. It's so amazing how they have just flourished. We will be moving this summer and the kids and I are both so sad to leave!! Great teachers best staff and one awesome Principal. They truly care. "
Phoenix Camelback
Yuma North Parent
"I really like that AmeriSchools now has structured PE, music and art classes."
Phoenix Camelback
Yuma South Parent
"I have 2 children here at AmeriSchools. We have been to 1 private school prior to coming over to Amerischools. I have to say hands down the best school my kids have ever attended!"
Phoenix Camelback
Yuma North Parent
"As a student of Amerischools for 8 years (1st-8th grade), I've learned much from not only the curriculum but what is expected out of myself as a person who is active in the community."
Phoenix Camelback
Camelback Student
"If a student is having a problem with a certain subject they (the K-1 teachers) will not stop until the child understands or they will find another way to teach the child."
Phoenix Camelback
Tucson Parent
"After being displeased with a local public school and not finding a middle ground for two years, we tried AmeriSchools. My daughter's grades have improved immensely."
Phoenix Camelback
Yuma North Parent
"Amerischools has been an answer to prayer for our family. We love everything about this school from the small and intimate enrollment to the diversity and respect for our individual needs as families and students."
Phoenix Camelback
Tucson Parent