Phoenix Camelback Campus
Curriculum
English Language Arts – Curriculum for K-3 – Reading Street and Imagine Learning along with supplemental items such as Phonics for Learning; Rewards – 4th – 8th  – Junior Great Books along with Imagine Learning
Math – Curriculum – K-8 – Engage New York which aligns with our assessment system Galileo; Imagine Learning and Kahn academy all support
Social Studies – Curriculum – K-8 is online developed and support state standards – Cross curricular with ELA through book studies in individual grade bands
Science – Teacher use Read Works to support science standards; Teachers are also using Generation Genius and 6 -8th grade using Science Plus textbooks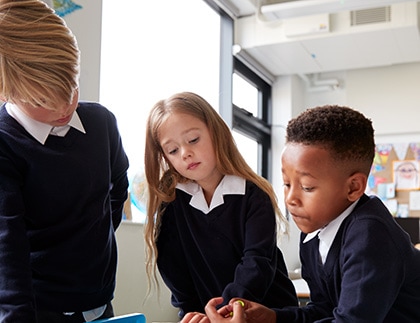 areas of focus
Academics
Non-Graded English Language Arts
Mathematics
Science
Cross-curricular Social Studies
Extracurricular
Before and after school tutoring
PAC Phoenix Parks & Recreation after-school care
Co-ed Soccer ages 10 & up
National Junior Honor Society

The 13
superkids
Our first year students in the Readiness class begins every year meeting the 13 Superkids, a process which introduces the first 13 letters and sounds, builds vocabulary and writing skills. In the second half of the year, they are writing sentences and reading stories, providing a great foundation for future success.
At the Foundations 1 level, year 2 of the program, the students learn new vocabulary, how to decode new words, reading for comprehension and continue expanding their writing and spelling skills.
foundations 2
Level
In the last year of SuperKids, at the Foundations 2 level, the students continue with rigor, learning how to read fluently and with comprehension skills which will carry them into the next levels of learning. The reading expands into nonfiction through the monthly magazine, SUPER, and the book club with covers 16 chapter books. The writing skills cover many different types including biographies, poetry and research projects.
Throughout each level, there are informal and formal assessments to make sure each child is progressing and becoming a SUPERKID!